AGAKOU METOCHI VILLAS 
CONTEMPORARY ARCHITECTURE IN CRETE.
The project consists of two villas, successfully positioned in a way that allows each villa to obtain its privacy. It follows contemporary architecture where earth colors prevail while its configuration focuses on the direct relationship between the exterior and the interior.
Plot
The plot is located in Agakou Metochi , Heraklion, Crete. It covers an area of 1300 m2 and it is within settlement, surrounded by beautiful olive trees, with views to the sea on the upper level, features that makes the plot ideal for residency.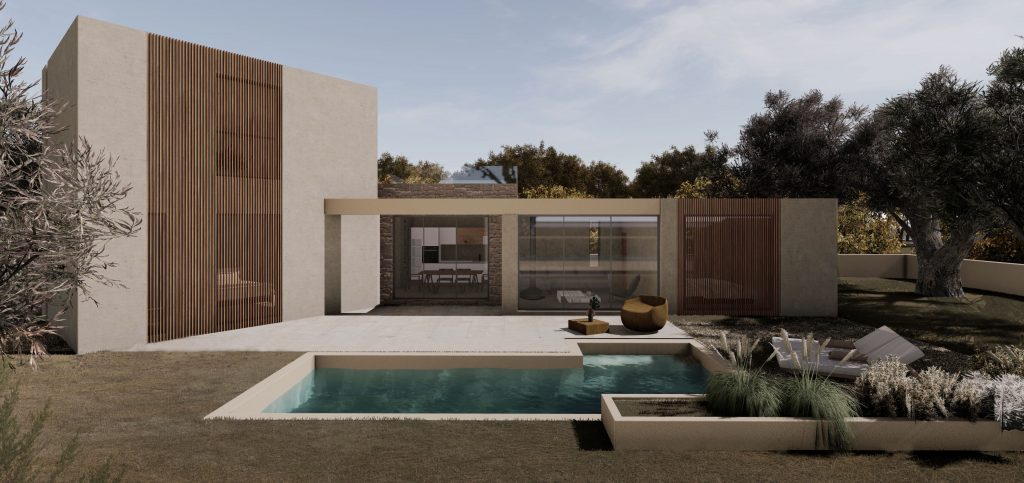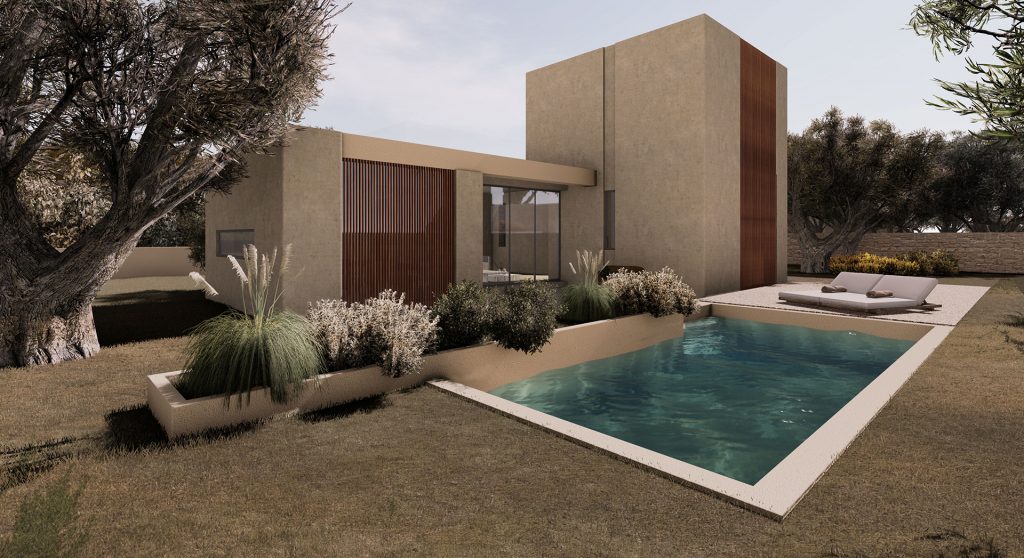 Summary
The Agakou Metochi project includes two residences consisting of two floors each, with total area of 123,23 m2 and of 95.25 m2. The first one on the West, consists of three en suite bedrooms, open plan kitchen – dining area and a living room while the second on the East includes two en suite bedrooms also an open plan kitchen – dining area and a living room.
Concept
The designed external areas provide a lounge area and a swimming pool of 24.85 m2 placed in direct relationship with the internal living areas. Both the residences have parking areas as well as adjoining natural gardens obtaining privacy and terraces on the upper floors with unobstructed view towards the sea.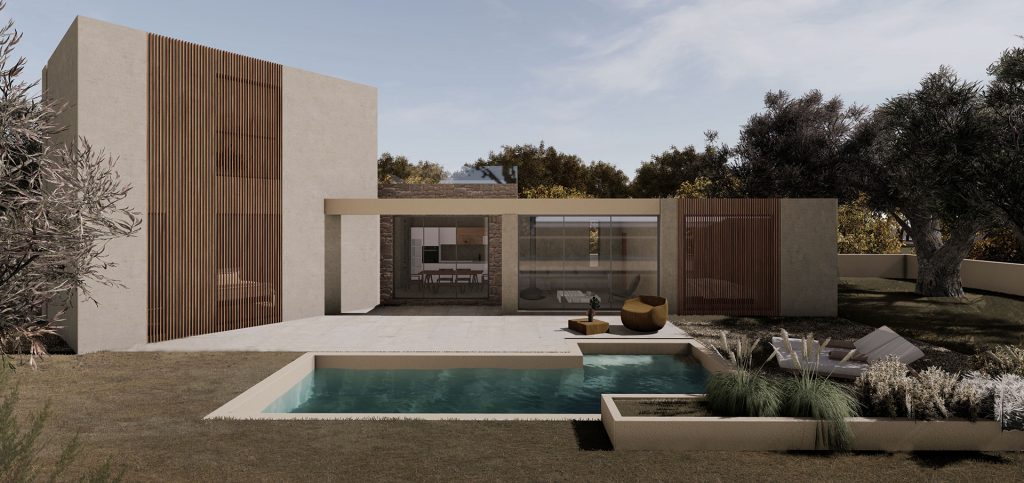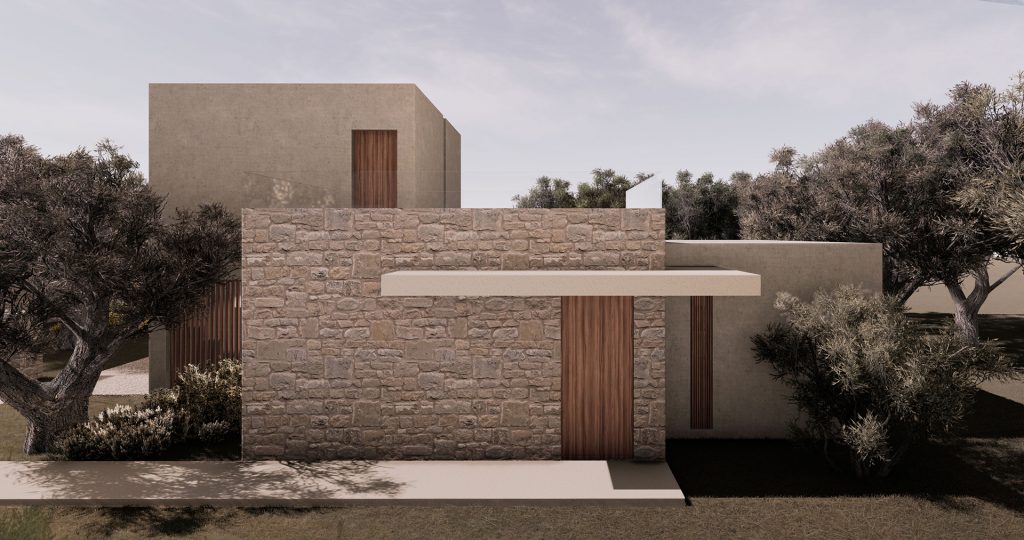 A Luxurious Project
The austerity of the contemporary geometric volumes stands against the warmth of the natural earth colors of stone and timber, achieving a perfect balance between traditional and contemporary. A materiality choice that also aimed to the integration of the project into the existing olive grove of the site, offering a peaceful environment so close to the Heraklion city center.
Location
Near Beach

Town plan limits
inside
Views
Mountain and Sea Views
Status
Off plan
Kitchen
Yes

Dining Room
No

Living Room
Yes

Bathrooms
0

En Suit Bathrooms
3 West Residence, 2 East Residence

Bedrooms
3 West Residence, 2 East Residence

Storeroom
No

Gym
No

Terrace
Yes

Hostel
No

WC
0

Balconies
No

Swimming Pool
24.85 m2 West Residence, 24.45 m2 East Residence

Pergola
Yes

Heating
No

Air Conditioner
Yes

Satellite Cabling
Yes

Solar Panels
Yes

Fireplace
No

Stone Arch
No

Nearest Town
Heraklio,
Airport
Heraklio,
Port
Heraklio,
Hospital/Health Center
Heraklio,

Supermarket nearby
Yes

Taverns nearby
Yes

Availability
For Sale
Location
Agakou Metochi, Hraklio
Agakou Metochi
Latitude
35.3175668,25.
Longitude
0938374,1293
Property type
Luxury Villa
Plot Area
Τhe plot is not includedm²
Building Area
0
Taxes
24%
Price (VAT included)
Residence A starting from 404.000 , Residence B starting from 323.400
Agakou Metochi is located 15 minutes from the city center of Heraklion.
It took its name from Nurandin Agakaki who owned the area during the Ottoman period.
INTERESTED?
SEND US A REQUEST WITH THE FORM BELOW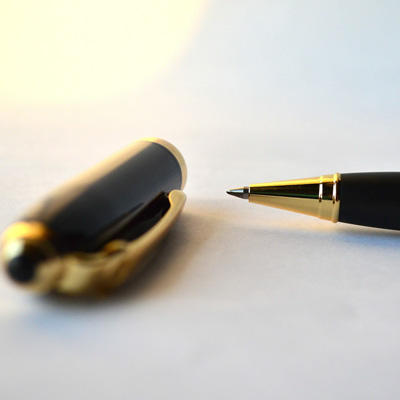 LEGAL MATTERS
Legal and financial matters for your villa purchase.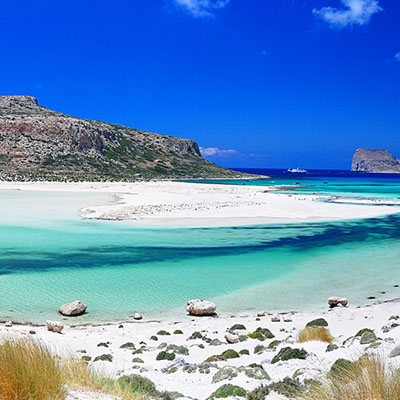 LIFE IN CRETE
The place of your future house is its people, its lifestile
LOOKING FOR SOMETHING DIFFERENT?