Standard services or Bespoke, custom-made solutions.
Action Constructing is here for you.
Owning a home on the beautiful island of Crete is something most people would dream of. However having a house built in Crete can be a potentially time-consuming and even stressful experience! The necessary detailed market research, endless patience and personal supervision of every construction stage, make it a daunting prospect for most people.
This is where Action Constructing S.A. comes to relieve you of all this trouble! We undertake the construction of your home in Crete from the very beginning till the end. With the utmost respect to our clients' wishes and the highest construction quality, we promise our clients a home in Crete that will be the fulfillment of all their dreams.
Right from excavation through to construction and on to the actual equipping of your new home in Crete, Action Constructing S.A. is on hand to supervise and carry out all necessary procedures.
We ensure your complete satisfaction before we deliver your new home! By placing your trust in us, you are assured that all aspects of your house built, will be carried out successfully. Not only do we undertake the practical and technical side of having your home built in Crete, but we also carry out all the bureaucratic procedures involved which ensure your complete legality. Our trained staff settles applications and paper work for the Social Security Association, IRS and any other necessary certifications on your behalf and with no inconvenience to you. In addition, we offer the possibility of developing luxurious, custom built, detached residences on privately owned land and settlements for organizations or associations completing the spectrum of possibilities that a really trustworthy company can manage.
Our Extra services – After Sales Care
Once your home in Crete is completed, you will need to furnish and equip it. ACTION Constructing S.A. offers an excellent after sales program, completely free of charge, to all of its clients. We support and assist with the most suitable shops and suppliers in order to make your new Cretan house feels like home!
We recommend the best shops which supply the highest quality merchandise and have the most reliable after-sales guarantee and service. We also offer you the opportunity to rent your villa or apartment in Crete at high rates as long as you like.
ACTION Constructing S.A. has a human face and preserves friendly ties with its clients even after their initial co-operation is over. As our staff is composed of local people, we can offer you trustworthy information on daily and routine matters, such as doctors, hospitals, vets for the animals, which you may choose to have when living in Crete's countryside. We can also offer useful advice about supermarkets, restaurants, sights etc.
Accommodation – Inspection Trips
It is possible that the thought of coming to a foreign country and carrying out all the necessary transactions in order to build your home in Crete seems a major step that you may hesitate to take. Not to worry! We are here to assist you in every aspect of your residence in Crete! We welcome you to Crete beginning with your transfer from the airport (Chania's or Heraklion's) to your hotel.
We can also help you make a hotel reservation and assist you in getting acclimatised during your first few days on this beautiful island of Crete! Please contact us for details on how to arrange an inspection visit to view our large portfolio of Crete homes, villas and apartments.
Legal Matters
Buying a property in Crete is a relatively straight forward procedure. Basic steps need to be followed.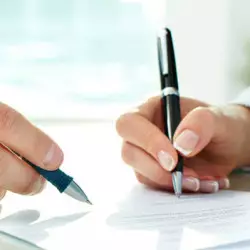 Our Development Process
TOP QUALITY CONSTRUCTION AND WE PROVE IT

Bespoke
"Building" your very own dream. Tailor – made houses
Action Constructing SA is a company that specializes in buildings' design and construction since 1997. The Design team, composed of four architects and one designer, focuses on creating cozy and attractive spaces inside and outside of the house. Action has in its possession a variety of unique plots in favorable positions with great views, not only littoral but inland, as well, giving, someone interested, the opportunity to create the house they have imagined, contributing themselves to that house's development.
A visit to delineated projects of our company, can convince someone for the refined architecture and construction quality, using modern materials and methods of construction, respecting the environment and the tradition of our place at the same time.
How to Get an EOT License
For info on renting out your Property in Crete and How to Get an EOT License click on the image below.